We're Getting Mutants in the MCU - The Loop
Play Sound
The VMware image contains some applications and development tools that will help you get started with Mono. We are interested in getting feedback about it.
Since we are not Windows developers, we want to hear from Windows developers what is confusing, what kind of problems they are running into, what things are not obvious, and in general, we want to get all the feedback we can about how to improve the VMware image.
The VMware image contains a SUSE Linux installation with Mono and the various Mono development tools and programs needed to try out your .NET applications on Linux using the Mono runtime.
Where do I get the image from?
[
]
The versions that used to be available in the VMware image are obsolete. There is no longer a VMware link on the Downloads page. VMware images are no longer regularly made available.
What do I do with the image?
[
]
You can use the free VMware player to run this virtual machine: download You can also use this image with any VMware product compatible with VMware Workstation.
What is the root password for the image?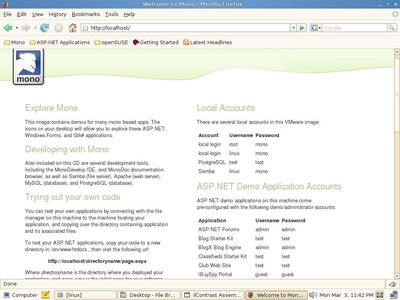 The root password is 'mono'. The image is set up to automaticially log on as the 'linux' user, and that account's password is also 'mono'. If you open http://localhost inside the image, there is a table with all accounts on the system (mysql, users, etc...).
Latest version
OpenSuse 10.3 (03/2008)
Includes
Mono 1.9 (2.0 beta)
MonoDevelop 1.0
gtksharp 2.10.2
apache2-mod_mono
xsp2
ikvm .34
tao framework 2.0 svn 10/2007
several gtksharp, .NET, ASP.NET applications
mysql, postgresql, samba, apache
External liks
[
]